Tree Equity and Climate Change
Tree Equity and Climate Change in Syracuse
Wednesday May 10th at 7pm
ArtRage Gallery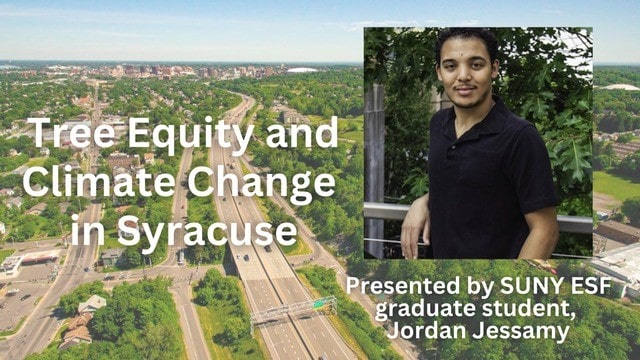 In connection with our current art exhibition, "Climate Connections: Our Shared Future" please join us for informative presentation and discussion with Jordan Jessamy, SUNY ESF graduate student. Climate change causes variations in weather and people are not the only ones to feel it. Trees are also feeling the impacts and in a city environment, the influence of climate change on trees can have real impacts on urban residents. This presentation will discuss how climate change impacts trees, what that means for city residents, and how some residents may face greater risk than others.
ABOUT JORDAN JESSAMY
Jordan completed his undergraduate degree at SUNY ESF in the Environmental Science Program Spring 2020 and transitioned into a Masters position the following summer. Jordan's thesis focuses on urban forestry and seeks to understand how urban tree community dynamics change across an urban gradient. He has also been involved in studies focusing on forest health in the Central Pine Barrens, how people's perception of environmental actions influences their behavior, and urban resource planning. In Spring 2021, Jordan was awarded the NSF Graduate Research Fellowship Program (GRFP) Grant. Aside from research, Jordan has also served as a Graduate Diversity Fellow for the SUNY-ESF Office of Inclusion, Diversity, and Equity (OIDE) and currently serves as a Scholar Trustee on the Central and Western New York Chapter of The Nature Conservancy (CWNY-TNC)
Join and share on Facebook: https://fb.me/e/2PvS2Q8Aw
"Climate Connections: Our Shared Future" features the work of three CNY artists and includes "tempestries" from 25 community members. On exhibit until May 20, 2023.
ArtRage – the Norton Putter Gallery
505 Hawley Avenue, Syracuse, New York
315-218-5711 – www.artragegallery.org
HOURS: W, Th & F 2-6pm & Sat 12-4pm
Wheelchair accessible
Off-street parking at 408 & 414 Lodi Street