Environmental Justice Evening
Environmental Justice Evening with Dina Gilio Whitaker!
Please join at SUNY ESF on April 26th for an environmental justice evening with Dina Gilio Whitaker.
This event is free and open to all.
Dina Gilio-Whitaker will present a public lecture at SUNY ESF titled Decolonizing and Indigenizing Environmental Justice. Gilio-Whitaker (Colville Confederated Tribes) is an award-winning journalist. She is author of As Long As Grass Grows: The Indigenous Fight for Environmental Justice from Colonization to Standing Rock. She is co-author with Roxanne Dunbar-Ortiz of All the Real Indians Died Off and 20 Other Myths About Native Americans. Gilio-Whitaker is a lecturer of American Indian Studies at California State University San Marcos. She is an independent consultant and educator on environmental justice and other Indigenous policy-related issues.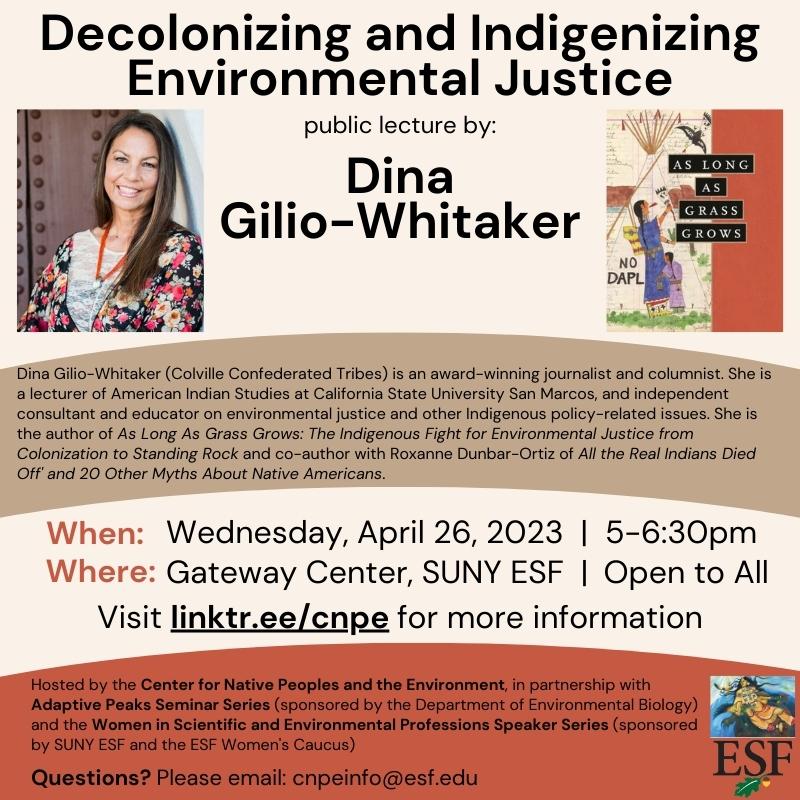 Additional event information can also be found on our blog.